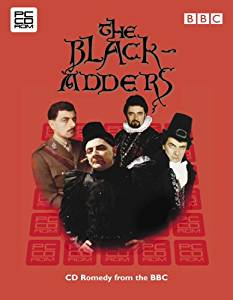 Blackadder - The Black Adders is a piece of Blackadder merchandise which was released by BBC Multimedia. It was released on 13 Oct. 2000 and was design to work on Windows 95 / 98 systems.
Manufacturer's Description
Edit
Blackadder's life and antics, immortalised in the BBC television series, are laid open for all to explore in this CD-ROM. The World of Blackadder is split into the four main eras of the great Blackadder dynasty reflecting the four different television series: the Middle Ages, the Elizabethan years, Georgian Times and World War One.
You can check out all the important people from Blackadder's many lives throughout the dynasty in the Portrait Gallery. Baldrick, Lord Melchett, Dr Samuel Johnson and Captain Darling all offer pearls of wisdom from each of the four eras on the whos, hows, whys and wherefores affecting Blackadder in the educational and entertaining History section.
Each era also offers a selection of classic video clips from the television series as well as a collection of whimsical games designed to test your nerve and skill. Other features include Lord Percy's Desktop Customiser which lets you personalise your PC with a selection of screensavers, wallpaper, cursors, icons and sounds and Dr Johnson's Dictionary which can be linked to the Internet allowing a shared collection of wild and wacky words and definitions! Along the way you will be entertained with numerous anecdotal titbits to tickle your fancy.
Features
Edit
Games based on the Blackadder period.
Navigate through time and explore the four main eras of the great Black Adder dynasty.
Bonus bits; Dr Johnson's Dictionary online, Mrs Miggin's Pie Shoppe, The Portrait Gallery.
Games, Video Browsers, Lord Percey's Desktop Customiser.